Sun When You Want It, Shade When You NEED IT!
Now you can have luxurious protection from Florida's hot SUN and frequent RAIN at the push of a button! Introducing our remote controlled, fully adjustable, aluminum louvered roof system.
Want to have a nice family barbecue or Back Yard Party but it's just too HOT! What about those famous Florida flash rain storms? SOLUTION! Own one of few Louvered Roof systems in Palm Beach County that is a free standing (Pergola) or attached louvered roof to cover your grill, deck or patio. A simple SOLAR powered motor opens and closes the roof by remote control! (Miami-Dade Engineered and Approved for winds up to 180 mph!!)
You can even angle the louvers so you're still letting BBQ smoke out with only some sun in, or close the louvers completely so you can enjoy full shade and complete rain protection. Unlike canvass or wood, your skin feels COOLER! Why? Because Aluminum REFLECTS the Sun's Heat better than any other material! With our Aluminum Louvered Roof Systems, your possibilities are endless. My Amazing Yard is the South Florida Master Dealer for American Louvered Roof Systems and Outdoor Living, a division of Cardinal Architecture in Louisville, Kentucky USA
THE ULTIMATE OUTDOOR ROOF SYSTEM!
Each and every one of our louvered roofs are custom designed and installed for each project. Go ahead, surprise us. We love a design challenge! We can build any size louvered roof, even covering an Olympic swimming pool! We tilt the louver's to force the water to run in whichever direction you want, and even have a gutter system. We can do Commercial as well as anything Residential. Be the 1st home in your neighborhood to have the most Amazing roof in town!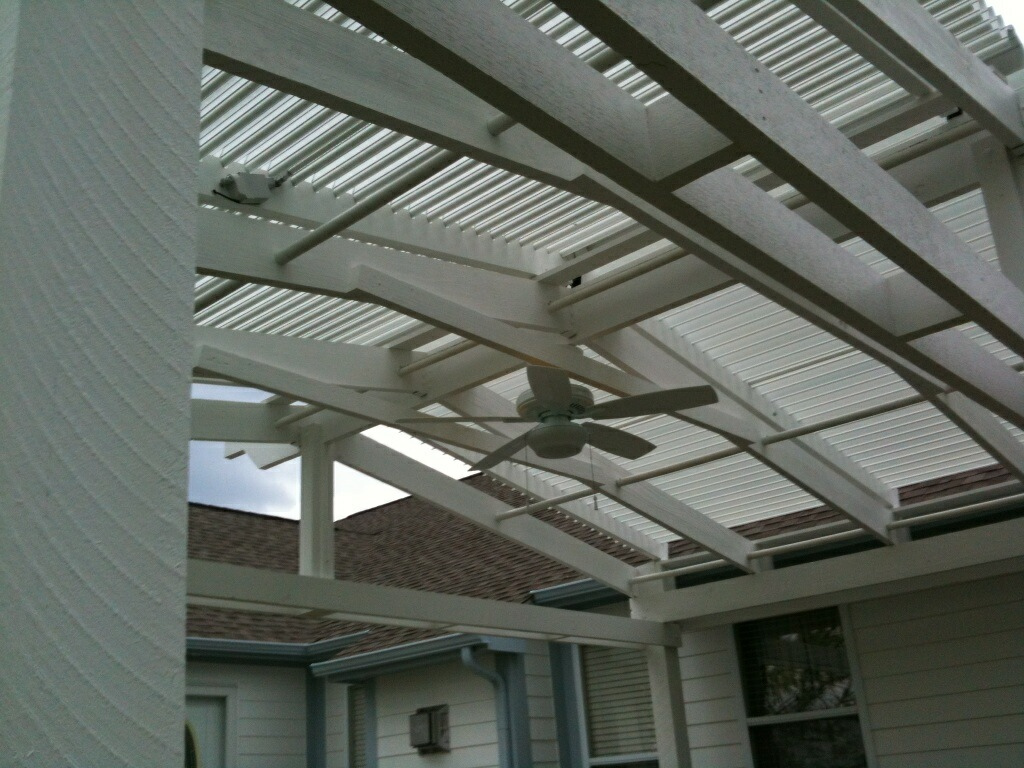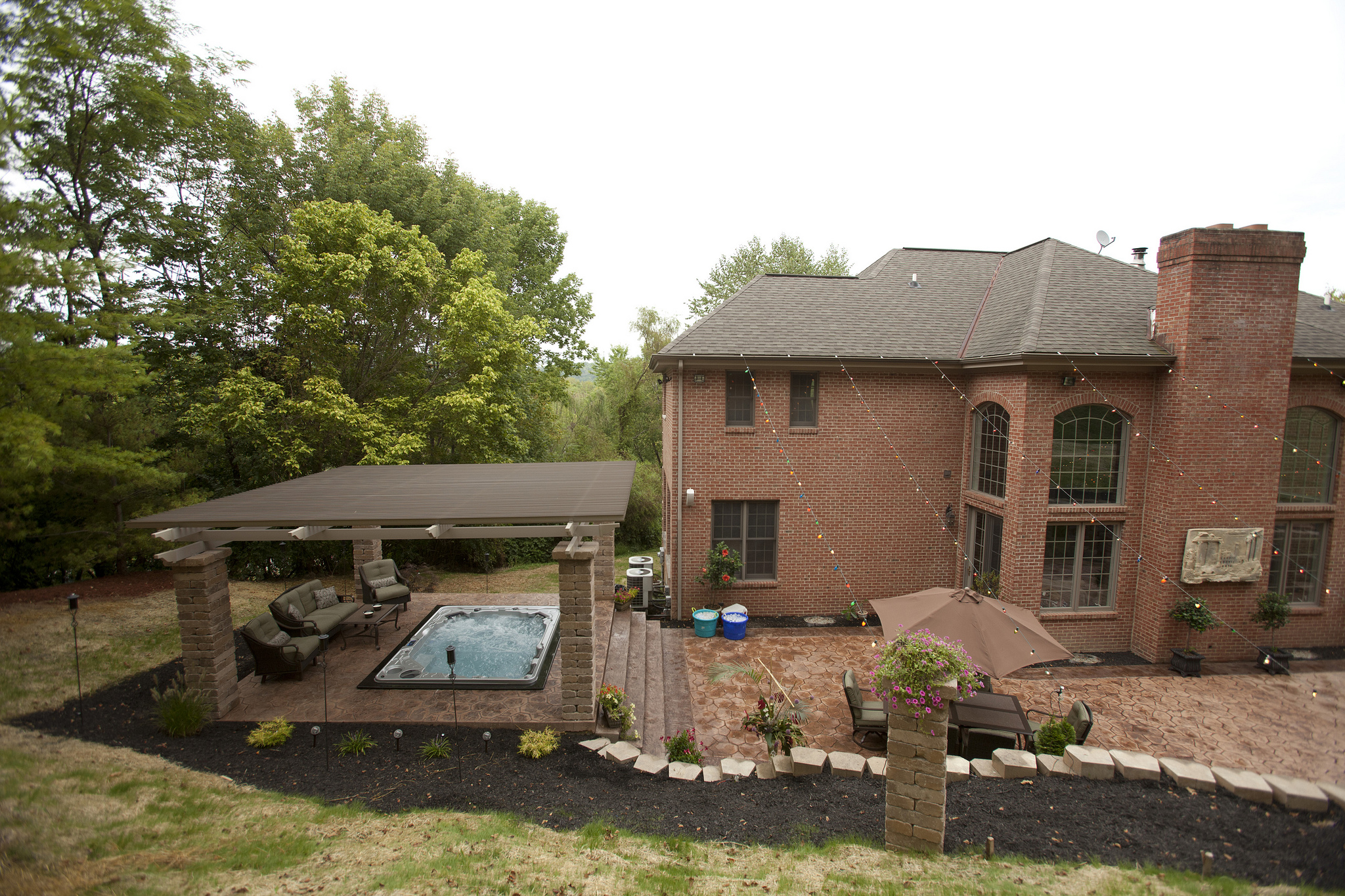 American Louvered Roofs has recently been awarded "A Best of Customer Service" by Houzz.com Read the full Press Release Here
PRODUCT INFORMATION
available in three colors
It is what provides the shade for a patio cover. It is also the remote-control-adjustable portion of the patio cover. Think of mini blinds 4" wide laying flat as a patio roof! Each Louver acts as its own gutter to channel the water away. This Louver is made from extruded aluminum and is extremely strong and durable, and electrostatically powder coated. All painted parts have a Lifetime Warranty. Louvers are available in 2ft increments beginning at 8′ and ending at 24′. (e.g., 8,10,12,14,16,18,20,22,24 feet) We have the longest louver length in the industry!
A rafter is what holds a louver in place and is also what controls the movement of the louvers. Within the 2" x 5" rafter is a separate hollow channel that can be used for adding an I-Beam for strength, and/or running cables and wiring. Other customization's such as mounting speakers or adding LED strip lighting.
Our 2" x 5" aluminum beams are designed specifically for use with our louvered roofs and aluminum posts. The beams are easily cut for any type of customization, and are engineered to support the roof system. Ceiling Fans, Heaters, and Misting Systems can also be attached to our beams.
This is our almunimum Post
Our 5" x 5" aluminum post is configurable to almost any style. Choose from the standard column design (below left), or add a snap in insert for a fluted or flat look (left), complete with matching trim. You can even use post panel inserts that are different colors for a great two-toned look (below right).
These are our Vinyl Posts
These vinyl posts can be used as an alternative to using our aluminum post, although vinyl is more expensive. Available in 4 different styles all complete with trim, there is a post for every home design.
Custom wooden posts (and beams) are also an option, but have limited options due to strict Florida building codes.
Optional Gutter System
An optional gutter system can be added to have the total water free experience. Normally the rain water would flow off of one side, like the grassy side. Adding our gutter system creates a seamless drip free roof system!
Affordable – Custom Built – Remote Controlled
100% Made in the USA
Master Dealer for Palm Beach and Broward County
Installed by Licensed

and Insured Contractors
(HURRICANE Engineered up to 180 mph winds)
Louvered Roofs by American Louvered Roof Systems have been calculated to qualify for Miami-Dade County wind requirements which are the toughest in the Country. American Louvered Roof Systems has Engineering specifications for most States and are available to purchase with a wet stamp generic copy or site specific. Our hurricane wind designs have been evaluated by a Florida licensed Professional Engineer and will meet the wind requirements of the Miami-Dade Building Department and other cities within the high velocity hurricane zone "HVHZ". In some cases you will need site specific drawings and calculations to specifically indicate to the Building Department the exact configuration of your proposed canopy.